There is practically nothing special in this dish but I wanted to share with you all my version of it that I made on Sankranti.Although I posted Veggie Burger on that day, I actually did not make Burger on that day as some of you thought.It was one of the drafts lurking on my desktop for a while now.
I have been wanting to share a joke or two ever since I started blogging..So finally I am here with one..
Enjoy the rice and have a good laugh!
1 cup Basmati rice
Pinch of turmeric
2 green chilies, slit vertically
1 tbsp fresh grated coconut (Optional)
Juice from 1 small lemon

Seasoning
1/2 tsp Urad Dal
1/2 tsp Cumin seeds
1/2 tsp mustard seeds
4-5 fresh curry leaves


Soak rice in water for about 15 min.
Drain the water and cook rice in about 1 1/2 cups water with a pinch of turmeric and salt
In a small pan, heat a tablespoon of oil and add urad dal, cumin seeds, and mustard seeds.
Add curry leaves and green chillies and let them fry for a min or so
Pour the seasoning onto the cooked rice and fluff the rice
Add the lemon juice to the rice and combine well
Stir in the grated coconut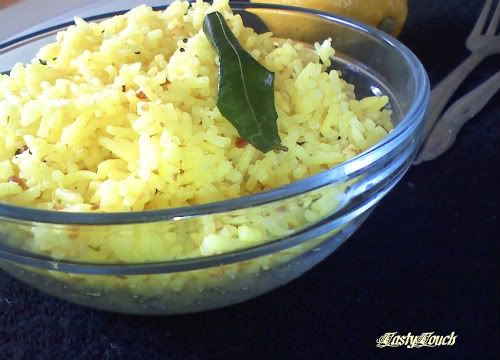 A Spanish teacher was explaining to her class that in Spanish, unlike English, nouns are designated as either masculine or feminine.
'House' for instance, is feminine: 'la Casa.
'Pencil,' however, is masculine: 'el lapiz.'
A student asked, 'What gender is 'computer'?'
Instead of giving the answer, the teacher split the class into two groups, male and female, and asked them to decide for themselves whether computer should be a masculine or a feminine noun.. Each group was asked to give four reasons for its recommendation.
The men's group decided that 'computer' should definitely be of the feminine gender ('la computadora'), because
-No one but their creator understands their internal logic
-The native language they use to communicate with other computers is incomprehensible to everyone else
-Even the smallest mistakes are stored in long term memory for possible later retrieval and
-As soon as you make a commitment to one, you find yourself spending half your paycheck on accessories for it
(THIS GETS BETTER!)
The women's group, however, concluded that computers should be Masculine ('el computador') , because:
-In order to do anything with them, you have to turn them on
-They have a lot of data but still can't think for themselves
-They are supposed to help you solve problems, but half the time they ARE the problem and
-As soon as you commit to one, you realize that if you had waited a little longer, you could have gotten a better model.
The women won!!
I hope you enjoyed a few laughs!
Shri