This is one of the tastiest dals I have eaten outside of the plain toor dal that we cook on a daily basis.I have taken inspiration from all over the internet for this recipe.There are different versions, some with cream, some with less or no cream.Although the traditional dal makhani calls for cream, I used Sour cream.
1 1/2 cup Black Urad Dal, soaked in water overnight
2 tbsps Kidney beans/Rajma (I used canned beans but if you are using the dry ones, soak it in water overnight)
2 tbsps of butter +1 tbsp to top it off
1 tbsp ginger garlic paste
1 Medium Onion, finely chopped
8 oz of Crushed tomatoes(no herbs added, just plain)
1 medium tomato, chopped
1 tsp Kasoori Methi
2 tsps Cumin Coriander powder
1/2 tsp of Garam Masala
6-8 oz of Sour Cream
1 tsp Kashmiri chilli powder.You can always use the red chilli powder
1/2 tsp turmeric powder
1 tsp Curry powder
Soak the dal overnight or for atleast 8-10 hours.If you are using the dry rajma,soak that as well.
Drain the water and pressure cook the dal until tender and not mashed up.
Heat a pan and melt butter.
Add chopped onions and cook till they turn translucent.Stir in kasoori methi.
Add tomatoes and cook till tender.
Add ginger-garlic paste, turmeric powder, Cumin Coriander powder, and curry powder.Cook for a couple of minutes such that the spices get mixed in well.
Add Garam Masala and chilli powder.Now add the crushed tomatoes and let it simmer till the masala separates from the fat.
Add the cooked dal and rajma.
Let it simmer for about 15 min.
Mix in the sour cream.Cover it and let it simmer on low flame for about 15 more min.
Add the tbsp of butter on top and garnish with coriander leaves.Serve hot with rice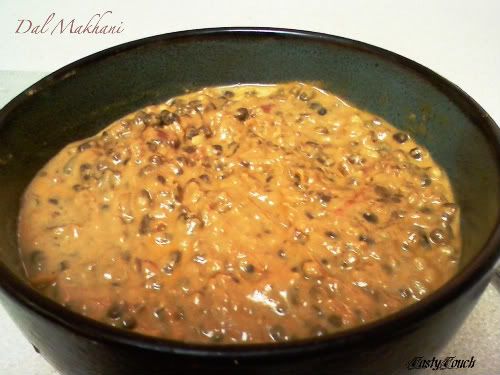 This goes to
MLLA 19
guest hosted by
EC
and the event started by
Susan of The Well Seasoned Cook.

Hugs,
Shri