Very easy and fun cup cakes that kids will really fall in love with!I made these for one of my friend's daughter's Birthday.The mascarpone cheese makes it super soft inside and the strawberry glaze on top gives the cupcakes a tangy taste.
Mascarpone cheese is an Italian cheese that is similar to cream cheese in texture.You can usually find in the cheese section of the grocery stores.

Recipe:Giada De Laurentiis
Yields 48 mini muffins or about 20 muffins

8 oz mascarpone cheese, softened
2 egg whites
1/4 vegetable oil
1 box White Cake Mix
1 cup water
1/3 cup frozen strawberries, thawed and drained
2 1/2 cups powdered sugar

Preheat the oven to 350F
Line the muffin tins with liners or you could use the muffin/baking cups
Beat the cheese, egg whites and Vegetable oil until well combined and creamy
Add the cake mix and water and mix until smooth
Fill the tins/cups just below the rim
Bake them till puffed and golden about 18 to 20 min
Take out from the oven and let them cool slightly.

Glaze
Puree the strawberries
Whisk the confectioners' sugar and strawberries until smooth
Top the cooled cupcakes with the glaze.
Let them sit for a while for the glaze to firm up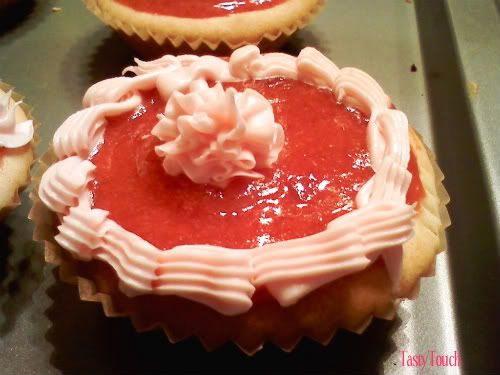 Hugs,
Shri