Some weeks go by fast and some weeks feel longer than a lifetime.I feel this week is one such week.I am eagerly looking forward to the weekend and it seems far, far away!
This soup is full of flavor-from the apples, curry powder and the sweetness from the roasted butternut squash.It has a very delicate flavor!
Recipe:
Ina Garten

3 to 4 lbs Butternut Squash, peeled and seeded (Although it is a lil' expensive, I bought the packaged ones)
2 Yellow Onions
2 McIntosh Apples, peeled and cored
3 tbsp Olive Oil
2 to 4 cups Veg Stock
1/2 tsp Curry Powder (I used Fresh Market Curry Powder)
2 tsps salt
1 tsp black pepper



Preheat the oven to 425F
Place the butternut squash, apples, and onions on a baking sheet
Toss them with Olive Oil, 1 tsp salt and 1/2 tsp pepper
Roast for about 35 to 45 min, until tender
Puree the veggies and add enough stock to make a thick soup.
Add the curry powder, remaining salt and pepper
Simmer for about 10 min for the flavors to blend in
Serve hot with a dollop of yogurt or cream!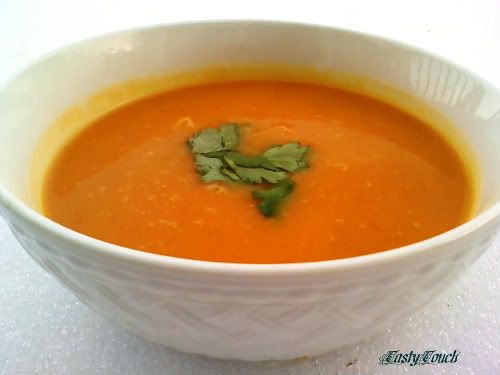 Hugs,
Shri