Happy Valentine's Day to you all!It was a relatively quiet Valentine's Day for us today. Usually we dine out but today I have decided to keep it simple and make everything at home.Probably the snow warning/news for Monday evening put me off.The snow/ice on my drive way from last week is still making it difficult to pull in the cars and here there is one more!
We stayed home and I made pasta and Fingerling potatoes along with a chocolate cake that my daughter has been asking for quite sometime.For some reason, she thinks it is her birthday today and was very eager to blow out a candle and cut the cake, which I allowed her to do.It is really funny to see how well she sang a birthday song for herself.These kids are unbelievable!!What did you do for the Valentine's day?
I will post the recipes for pasta and cake in the next week..

Although today's post is not an elaborate dish,I am sure you will like the simplicity and the flavor of it.The fingerlings are a variety of potatoes and as the name indicates,they resemble a finger in shape.They are elongated and are not the same as new potatoes.The ones I bought are Russian banana.They possess a nutty flavor and a great texture.

Inspired from Fresh Market Magazine
1 lb fingerling potatoes
3 tbsps Olive Oil
1/4 tsp Black pepper
1/4 tsp salt
1/2 tsp Dried Rosemary
1/2 tsp Dried Basil
1/2 tsp Dried Thyme
1/2 tsp Dried Oregano


Preheat the oven to 400F
Cut the potatoes vertically into halves
Combine oil, pepper, salt, and the seasonings
Toss the mixture with the potatoes
Spread the potatoes on a baking sheet in a single layer
Bake them until golden and tender, about 45-50 min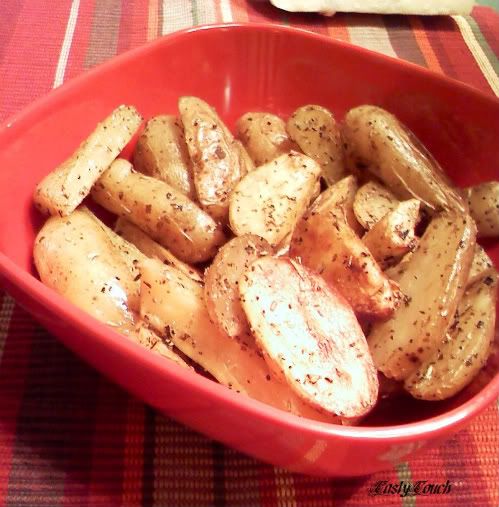 Hugs,
Shri