The 'word' is out
and most of you know by now that my little brother (actually,no longer little) is getting married this April. And the bride is Siri. And no, I don't boss her around! Well, may be I will... after the wedding!Just kidding...
Time flies and I can hardly believe that he is getting married.Of course, my parents said the same when I got married.I guess someone in the household has to pass that 'I can't believe ...married' statement. Although we live in the same country, we can hardly squeeze in time to talk.Growing up, we fought a lot and talked very little.In fact we were two violent kids on the block-from biting to pulling hair to kicking in the stomachs. And all of that for a piece of chocolate or Diwali crackers! Looking back, I do cherish those memories although I wish we were more gentle on each other..Nice thing here is we both did okay given how violently we fought!Did you guys fight with your siblings too?I just wonder..
The one thing we never fought was the restaurant!We both love Minerva (in Hyd)and we both love North Indian food or for that matter any food!I could write pages and pages of my memories but I won't bore you to death!
On to this delicious delicacy!I tweaked a little bit to suit our taste but I gave you the link that takes you to the recipe.Since I did not have Poppy seeds, I skipped them.
Recipe:
Sanjeev Kapoor
8 small baby brinjals
2 Medium Onions
1 1/2 tbsps ginger garlic paste
6-8 Curry Leaves
2 tsps Cumin Coriander Powder
1 1/2 tbsps Sesame Seeds
2 tbsps Peanuts
1 tbsp Dry Coconut
2-3 seeds of methi seeds
Pinch of Turmeric Powder
1/2 tsp Red Chilli Powder
1 tsp Jaggery
2 tbsps Tamarind Pulp
1/2 cup Olive Oil
Salt


Wash and slit brinjals vertically making sure they are not slit all the way through.The vegetable should be intact at the stem, so it should open up like a flower when you cut.Start at the opposite end from the stem.
Cut Onions into quarters.
Dry roast the onions on a tawa till they are soft
Dry roast the peanuts, cumin seeds, coconut, sesame seeds, methi seeds till it changes color
Grind together roasted onions, cumin coriander power, roasted spices, ginger garlic paste and salt, turmeric powder, chilli powder, jaggery and tamarind pulp to a fine paste
Stuff this mixture into the cut brinjals.
Heat oil in a pan and add curry leaves and fry for a min.Add the stuffed brinjals and saute for about 10 min
Add the remaining stuffing and add half a cup water
Cover and cook until the oil starts to separate and the brinjals are cooked
Serve hot with rice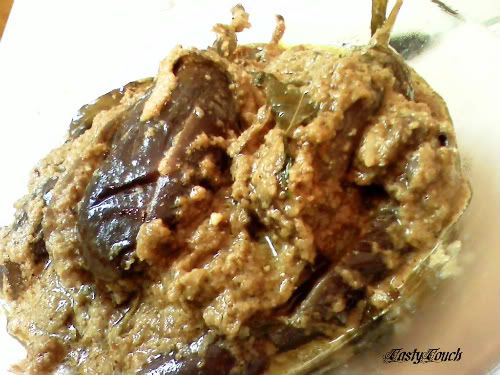 Hugs,
Shri