I bumped into this wonderful website,
Joy of baking
sometime back when I was searching a recipe for Rice Krispies.There are several mouthwatering recipes in every possible category, mostly baking related.
I am not fond of the ones that you get in the grocery stores, the prepackaged ones.I feel they are very sweet!While I was doing my Masters, I often used to go to Borders Book store and they used to have the Rice Krispies, not too sweet, just perfect and crunchy.These taste just like that...
This recipe used Rice Krispies cereal, which is loaded with Vitamins and the parents should have no problem allowing their kids to gorge on these.
6 cups Rice Krispies cereal
3 tbsps unsalted butter
1/8 teaspoon salt
1-10 ounce package miniature marshmallows (I used Kraft's Jet puffed mini marshmallows as I think they are just perfect in sweetness)
1/2 teaspoon pure vanilla extract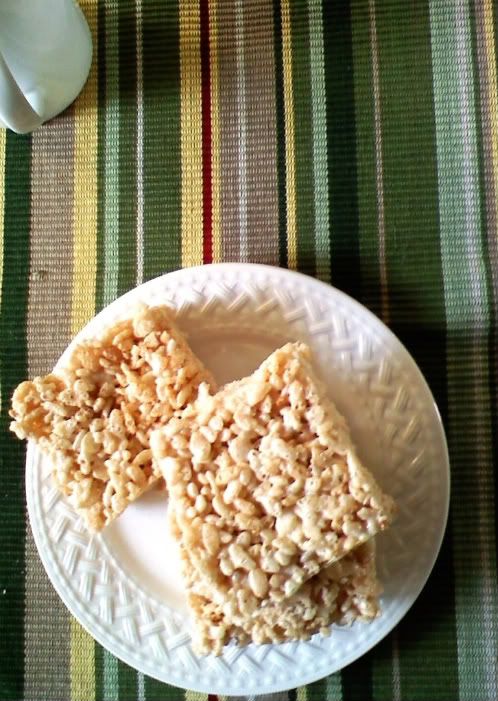 Grease or butter a 9 inch square baking tray
Butter a bowl and place the rice krispies in it
Melt butter and add salt to it.
Add marshmallows and stir until they are melted completely.
Add vanilla extract
Mix until well combined
Immediately pour into the greased tray and let it cool.
Cut into squares.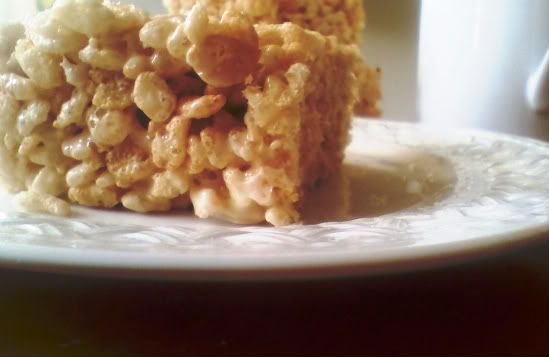 These crunchy snacks are off to
Kids Delight
hosted by Srivalli