My parents left this past weekend and it has been gloomy these 3 days.It took longer for me to convince them to come over than their stay with me.When my dad came 2 years ago, he was determined not to come back as he always felt they are dependent on us for everything when they were here.So,it took longer than expected to bring him here.With mom, it was not as difficult.You know how moms are!
As a child I never realized the sacrifices my parents (for that matter, any parent) had to make.Now, I do really appreciate all that they have done but sometimes I wonder if I should have had that realization early on!
I like to go to airports to pick up some one, not to drop off.Even when I drop off some one not so close, I almost end up with tears in my eyes.My guess- it is the location that might be the problem!As my parents went in, my childhood memories flooded my mind while I was wandering restlessly outside.I always wish/ed, US was closer to India or it takes only a few hours and not a day to go to India, not to forget all the tight airline regulations.
All in all, I had some great time with them although it was a short trip and I was hoping for it to not end!
Recipe adapted from Ina's strawberry scones
(Makes 14 to 16 scones)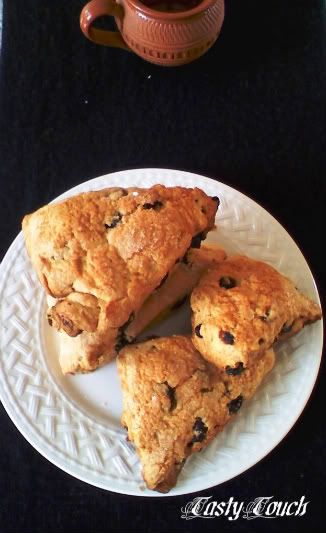 4 cups + 1 tbsp flour
2 tbsp sugar + extra for sprinkling
2 tbsp baking powder
2 tsp salt
3/4 lb cold unsalted butter, diced
4 extra large eggs, lightly
1 cup heavy cream
3/4 cup mixed berries( or berries of your choice)
1 egg beaten with 2 tsp water or milk for egg wash
Preheat oven to 400F.Grease and line a baking sheet with parchment paper
Whisk flour, salt, baking powder and sugar
Blend cold butter at lowest speed and mix until pea sized pieces
Mix eggs and cream and combine with the flour butter mixture
Add berries to this mixture.If the dough is too wet. add some flour to it and roll the dough in to about 3/4 inch thick
Cut into triangle shaped pieces and place it on the baking sheet.
Brush with egg wash
Sprinkle with sugar and bake it in the oven for 20 to 25 minutes.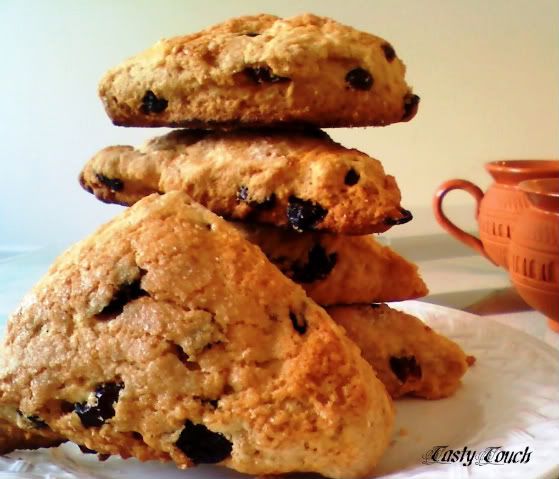 Aparna of My diverse kitchen
is hosting this month's
Monthly Mingle
, started by
Meeta
and the scones go to the tea time there!