Outer Banks, known as OBX(as much as it sounds like a ticker symbol on NYSE, it is not!) is a series of small islands (Bodie Island, Hatteras island, Roanoke & Ocracoke) along the North Carolina coast.The place is quite popular for the beaches and light houses.The most popular lighthouse, I believe is the Cape Hatteras.Not to mention, the Wright Brothers' memorial in Kitty Hawk!

Our trip to OBX is one of the many memorable trips, both good and bad.Good because we went with my parents,my brother and my Sister in law(future:P) ,and bad because we got a speeding ticket.Anyway, I will save the cries for some other time.
The day we went, we wanted to visit Cape Hatteras Lighthouse but we realized that it will take longer to go to Hatteras given the weather. The place was expecting Hurricane Danny at the time and the weather did not seem cooperative. So we were content with Bodie Lighthouse, which is very beautiful too.
You can recognize the light houses by the markings and the patterns on the light house. While the Cape Hatteras light house has spirals in black and white, the bodie island light house has horizontal bands.
Isn't this charming?It is romantic to just walk on this beautiful wooden structure.
This charming town has an outdoor theater , playing the longest running production-'
The Lost Colony
', a play written by Pulitzer prize winner Paul Green.Roanoke has some impressive history behind.It happens to be the first English Colony in America.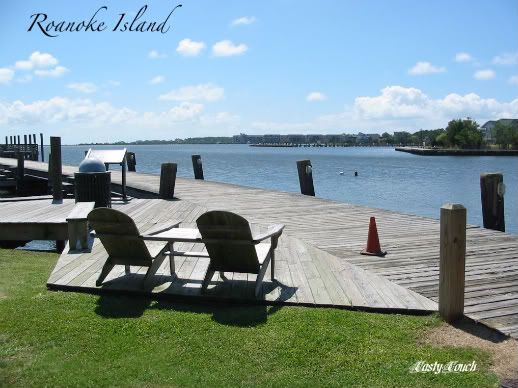 We strolled along a bike trail that runs along the waterfront.
Although the Wright brothers are from Ohio, they camped here in Kill Devil Hills to carry out their experiments of the first human flight which they were successful in 1903.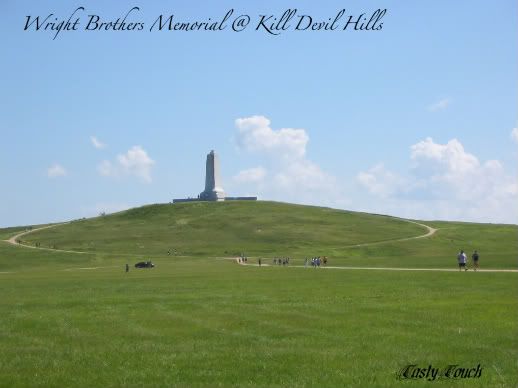 Awards
Padma
has passed me these awards a few weeks back.Thank you very much and sorry for the delay,Padma!!
Raje
has passed me these awards and there is a fun meme that goes along with it which needs to be answered in one word!Thanks Girl!It means a lot:)
1. Where is your cell phone? With me, on my lap
2. Your hair? Black
3. Your mother? The soul of my family, truly
4. Your father? S
5. Your favorite food? Italian
6. Your dream last night? No dreams
7. Your favorite drink? Pepsi
8. Your dream/goal? Well….
9. What room are you in? Family room
10. Your hobby? Reading
11. Your fear?
Falling off of heights
12. Where do you want to be in 6 years? Preferably in a warm place!
13. Where were you last night? home
14. Something you aren't? Hypocrite
15. Muffins? Hard to limit myself to one or two!
16. Wish list item? To go to Italy, Spain and Greece in one trip
17. Where did you grow up? Hyd
18. Last thing you did? Phone call
19. What are you wearing? Sweat shirt and pant
20. Your TV? Playing Mickey Mouse
21. Your pets? None
22. Your friends? Really the best
23. Your life? Is good
24. Your mood? Alright
25. Missing someone? My Mom
26. Vehicle? Camry
27. Something you're not wearing? Hair band
28. Your favorite store? Barnes and Noble
29. Your favorite color? Black
30. When was the last time you laughed? Last night
31. Last time you cried? Don't remember
32. Your best friend? Pallavi
33. One place that I go over and over? The mall
34. One person who emails me regularly? None
35. Favorite place to eat? Bravo (Cucina Italiana!!)
These awards go to each and every reader of this blog..Feel free to pick 'em up and will be looking forward to each of your memes!
Hugs,
Shri