It is sugary treat again this time.I prepared these cookies for my friend's daughter's birthday party. We have been eating the delicious rice krispies that I made and now, I want more sweet treats. Last week, I was determined to not sway from my exercise plan-to walk for a mile and a half, do the abs and toning but once I started eating sugars, I am slowly slipping away, slip sliding away…Speaking of slipping away, do you remember the wonderful song 'slip sliding away' by Simon and Garfunkel or Paul Simon to be exact? The lyrics are a delight to listen to!These are some of my favorite lines from the song.
Slip sliding away, slip sliding away
You know the nearer your destination, the more you slip sliding away
.
.
.

I know a woman, (who) became a wife
These are the very words she uses to describe her life
She said a good day aint got no rain
She said a bad day is when I lie in the bed
And I think of things that might have been

I digress!All the lovely readers of this blog know how much I love participating in events. The recipes that I have been posting for the past 4 months or so have been primarily for the events.
Meeting the deadlines for the events may not be possible from now because of some work at my end. However, I may send in for an event or two, just may be! But I will continue to post recipes but this time they don't go anywhere :-)) (Laughs)!
Please do not ask me the source of this recipe as I have no idea where I snatched from! If I remember it right, it is from a magazine that I picked up from a book store last Christmas. I cannot be certain though.
They taste very similar to Mexican wedding cookies in that they are very delicate in taste and touch.
Makes about 6 dozen
2 cups butter, softened
2-1/2 cups Confectioners' sugar,divided
3-3/4 cups all-purpose flour
1-1/2 tsp almond extract
1tsp ground cardamom
1/8 tsp salt
1 cup finely chopped walnuts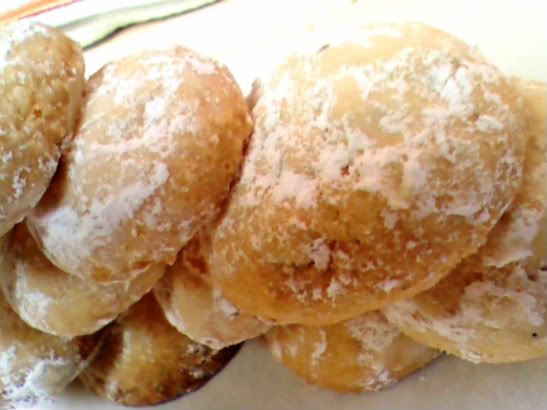 Preheat the oven to 350F.Grease a cookie tray and line with parchment paper if desired.
Beat butter and 1 1/2 cups of sugar in a bowl until smooth. Add the almond extract
In a separate bowl, mix the flour, cardamom, and salt.
Add this to the butter mixture. Add the walnuts
Make 1 inch round balls and place them a couple of inches apart (the balls will spread a lil' bit) on the baking sheet
Bake in the preheated oven for 15 minutes or until the edges are golden
Remove from the oven and let them sit for a min or so until warm and easy to handle

In the remaining sugar, roll the warm cookies and place them on wire racks to cool.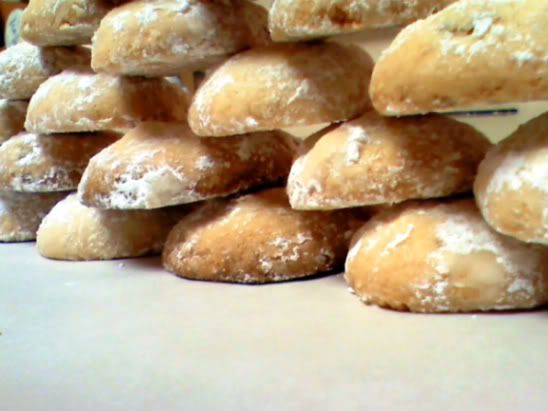 For variation
: You can use pecans instead of walnuts or a combination of both.
Note
: If you are using salted nuts, you can skip adding salt.
Also, Padma and Raje have passed me some awards and I will post them in my next post.Thanks ladies!
I will leave you with the last verse of the song...
Whoah God only knows, God makes his plan
The informations unavailable to the mortal man
Were workin our jobs, collect our pay
Believe were gliding down the highway, when in fact were slip sliding away
Have fun,