Campanelle in Italian means "BellFlowers".The edges of this pasta are fluted and has is hollow in the center for holding the sauce.This is very "Holiday-ish" looking Pasta.
I personally like pasta dishes with little or no sauce. This is a taste that I have acquired over years. Just a dash of Olive Oil will do for me.
I did not add any sauce to this dish as I wanted it to be light.So I tossed it with Sauteed Spinach, Grape Tomatoes and Extra Virgin Olive Oil.I also add lemon zest to enhance the flavors in the dish.
1 lb Campanelle Pasta (I used Barilla)
1 box Cherry or Grape Tomatoes, Halved
1 Block of Fresh Mozzarella Cheese, cubed
1 Bag of Spinach, preferably used in Salads
2 tbsps Italian Seasoning
2 Garlic Cloves,crushed
1tbsp of Lemon Zest from 2 fresh lemons
Add Salt and bring 6 Quarts of water to a rolling boil.
Add the pasta and cook for about 10 minutes, uncovered
If you want more soft/tender pasta, cook for an additional 1 min
Heat a table spoon of Extra Virgin olive oil in a saucepan and saute the Spinach until wilted
Add Garlic and Tomatoes and cook for 3 min
Stir in the Seasoning
Add the Mozzarella Cubes and lemon zest
Add the remaining table spoon of EVOO and toss all the ingredients.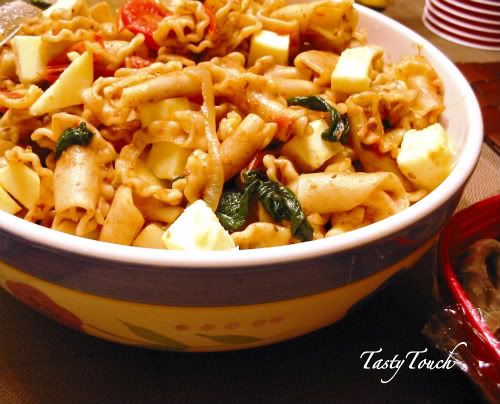 Ciao,
K