A lot of you can relate to when I say, kids in their 'terrible 2's',-eating habits or just making them sit in one place for 5 sec and focus on something particular.It is frustrating and equally humorous!Lately, I am unable to manage my daughter, some one who I thought is relatively a docile one, with good listening ears.But now, she does exactly opposite of what I ask her to do.Is it the age or my frustration, I am not quite sure!Despite all of it,the one part I love is when she runs and hides under my dining table whenever I ask her to clean up her toys or have food.That makes me smile,always!

She is not a good eater. She mainly survives on dairy products, boiled veggies and occasionally fruits!And oh!Apple juice, lots of it!But anything else is a big no-no for her!We are still struggling to get her to mix rice and curry or dal instead of eating both of them separately.I hope time and age will take care of that!However, she is open to tasting and spitting instantaneously if she doesn't like it, which is mostly the case!But these cookies are one of those that she was willing to give a try and I had this feeling she liked:)

Tuile in French means 'tile'.Apparently, it is so named because the classic tuile when moulded gives it a roof tile shape.These are a lot of fun to make and quite easy actually!You can mould them into different shapes-flowers or tubes or cups, when in a pliable state after baking.You can also fill some light fillings.

I have used Martha Stewart's recipe,almost to the letter.

3 tbsps unsalted butter
1/3 cup light brown sugar
1 cup unsweetened shredded coconut
1/4 light corn syrup
2 tbsps all purpose flour
Pinch of Salt
Zest of 1 lime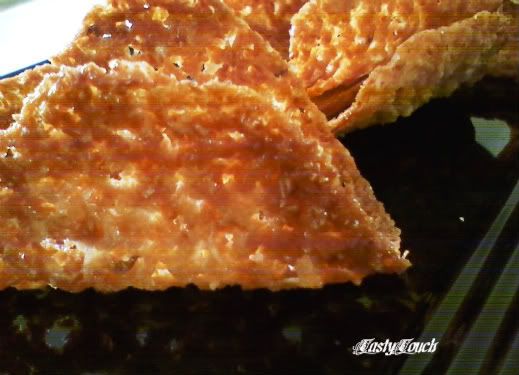 Preheat the oven to 350F
Line baking with parchment paper
Cook butter, sugar and corn syrup on medium by stirring constantly until the butter and sugar liquefy.Remove from the heat
In a separate bowl, whisk flour, coconut and salt.Add this to the butter mixture.Mix in the zest
Drop rounds of batter onto the sheets.Place them atleast 2 inches apart, it spreads out
Bake them for about 8 to 9 minutes, until the cookies are golden
Take them out and using a spatula, wrap them around a rolling pin or the handle of a saucepan (must be a metal handle).
Let them stand until set.