With cold weather upon us, it is time to grab a book, curl up on the couch, listen to some music and keep things simple in the kitchen, like a soup that will serve as a meal by itself!
I have adapted this soup recipe from Linda Fraser's 'Vegetarian' book.The original recipe calls for heavy cream which I reduced.The end result will be on the watery side as opposed to a thick and a creamier version.But you could always add the heavy cream and corn starch to make it a thick soup.
1 can of Chick peas ( about 15 oz)
1 Onion, chopped
3 medium potatoes, peeled and cubed
3 garlic cloves, crushed
2 cups of fresh Spinach,shredded
4 cups of vegetable stock or water
2 tbsps Olive oil
2 tsps Cumin powder
2 tsps Coriander powder
2 tbsps heavy cream
2 tbsps tahini paste
1 tsp curry powder
Salt and pepper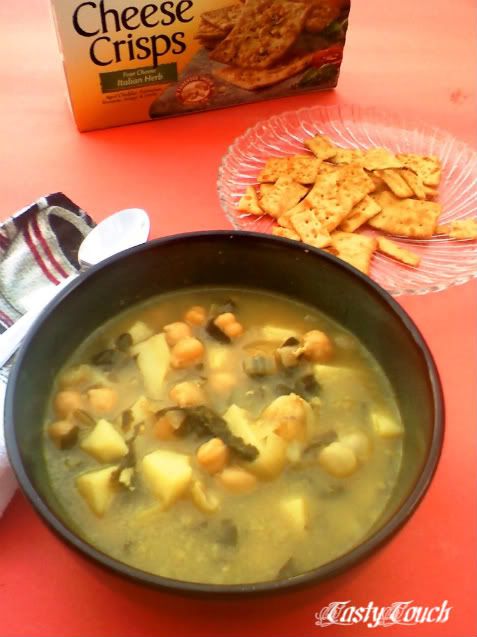 Heat oil and add garlic and onions.Cook till they are soft.
Stir cumin, coriander and curry powder.
Add Chickpeas and potatoes and let them cook for a couple of minutes.
Add Spinach and cook for 2 minutes
Pour in the stock and simmer for about 10 minutes, till the potataoes and chickpeas are tender
Stir in the cream and Sesame seed paste and let it boil for 5 more minutes.
Add salt, pepper and Paprika(optional).
Let it simmer for another 5 minutes.
Season with Paprika or salt or Parmesan cheese
For a thicker version
2/3 cup of heavy cream
1 tbsp cornstarch
When you are stirring in the cream, also add the corn starch.
Note:You could also use frozen spinach but drain all the excess liquid before adding.