Over the past few weeks, I have come across some wonderful macaron creations in blogs, be it Daring Bakers' Challenge or otherwise-Masterpieces, I must say!I have admired the Daring Bakers all along and I am simply awed by the cookies/cakes they bake and every time I want to join, I cannot muster the courage.
They don't call it a challenge for no reason, do they?I have tried making Milan cookies and as you can guess,they were in no shape to pose for my camera!The french macarons, on the other hand, tasted fantastic although the shape was slightly flat or should I say without feet as they call it in the DB circle?My guess, I made some mistake while whipping up the egg whites .Once you start eating these macarons, you cannot stop with one!
I have given you the exact recipe and procedure from the site and the link to the site.
Yields 30 two-inch cookies
From
chef Alex Trouan, L'Artisan Macaroon
2 1/3 cup confectioners' sugar
1 1/2 cup almond meal
5 egg whites
Pinch of salt
2 1/2 tablespoons granulated sugar
Red food coloring
Filling
1/2 cup egg whites
1 1/4 cup sugar
1/2 pound room-temperature butter
3/4 cup raspberry jam
Preheat oven to 325°.
Sift confectioners' sugar, then add to almond meal in a bowl.
Whip egg whites with salt on medium speed until foamy. Increase the speed to high and gradually add granulated sugar. Continue to whip until stiff peaks form - the whites should be firm and shiny. Add a few drops of food coloring and keep whipping until desired hue is reached.
With a rubber spatula, gently fold in confectioners' sugar and almond meal into egg whites until completely incorporated. The mixture should be shiny and flow into itself when folded. When small peaks dissolve to a flat surface, stop mixing. Be careful to not over mix.
Fit a piping bag with 3/8-inch round tip (or bigger size for large macaroons). On a few sheets of parchment paper, draw circles 1-2 inches in diameter 1-2 inches apart. Flip the parchment paper over so the penciled side is on the bottom. Fit one baking sheet inside another one to double the insulation, then place the parchment paper into the baking sheet. (The doubled baking sheet facilitates smooth macaroons.)
Starting in the center of each circle, pipe the filling onto the circles, extending the filling out to the edge of each circle.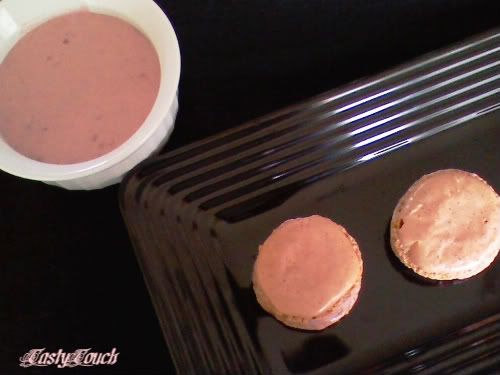 Bake 17-20 minutes. Remove macaroons from the oven. Let cool on baking sheets. When completely cool, slide a metal regular or offset spatula or paring knife underneath the macaroons to remove from the parchment.
For the filling: Warm egg whites and sugar over a double boiler until the sugar is dissolved. Transferred to a standing mixer and whip until cool. Once cool (slightly below room temperature), add the softened butter to the bowl, a little at a time, and whip until fluffy. Once all butter has been incorporated, add the jam and whip until incorporated.
Pair macaroons of similar size, and pipe about 1/2 teaspoon of the filling onto one of the halves. Sandwich with the other half and freeze for 1-2 hours to allow flavors to blend together. Bring back to room temperature before serving. Well-wrapped macaroons may be frozen for up to three months.
Note:You get Almond meal in Specialty stores, that is if you cannot find in the regular grocery stores.In case you cannot find almond flour, use sliced blanched almonds (not slivered) and finely pulse them.
Have fun,