Tasty Touch has turned 1!And Can you believe it, I missed it!It just seems like yesterday when my SIL was pushing me to open a blog. At the time it felt like a good idea to have an online recipe diary and interact and share ideas with fellow bloggers. I thought I had some idea of what I was getting into but little did I realize that I will be knowing some fine chefs, incredible photographers, articulate writers and some very warm people. It has been a wonderful experience throughout and thank YOU, especially the readers of my blog.Some of you have even become my household names.
I have seen a lot of you celebrate 2nd, 3rds and even some 4th anniversaries.So in that way, it is a very small thing to celebrate for..Trivial or not, I personally feel its a huge accomplishment. Given my lethargy levels, I did not imagine I will stay in 'business' for this long!
So, Thank you so very much for that:)
I do have some good news that I would like to share with you all.I will be going back to work full time after 4 years which is exciting and at the same time nerve wrecking.So,I may not post dishes for a while until I settle down with work.So, please bear with me and I promise, I will come back even before you know it!
Panna Cotta (Recipe: Gale Gand with some changes)
3 tbsps water




1 tbsp Powdered Gelatin like Knox (About 1 sachet)




4 cups Heavy Cream




1/2 of Vanilla bean, seeds scraped




1 tsp Vanilla bean extract




1/2 cup Sugar



In a small bowl, take water and sprinkle the gelatin powder.Do not stir.Let it soak for 10 min

In a pan, heat the cream, sugar, vanilla extract and Vanilla bean seeds.

Bring the contents to a simmer.Add the gelatin mixture and stir in until gelatin is completely dissolved.

Pour in ramekins or glasses.It should serve about 6 people.

Chill it for 4 to 6 hours

Slice the berries and top the panna cotta.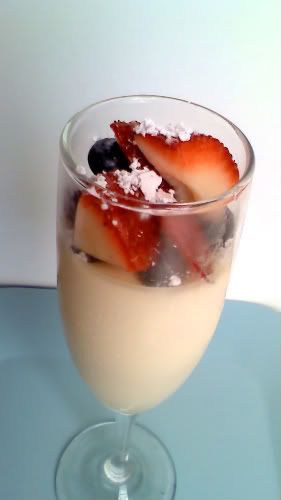 Lots of love,
Shri