Have you watched Julie & Julia?We wanted to watch it while it was in the theaters, but realized that with 'S', it may not be possible, now that she is older.Believe it or not, we used to go to 10'0 clock shows until she was an year and a half.We even went to James Bond movie and she was very oblivious to the sounds and chaos going on in the movie.Can you imagine that?So, anyway, we waited for the DVD and last weekend I watched it.It is a very neat and a well made movie.I should also admit that there could be a small element of bias due to my liking for Meryl Streep.She is a natural particularly in comedy.

On to the recipe:
2 bunches of Cilantro, stalks removed and washed clean
1 small onion , chopped
1 garlic clove
2 cups short grain rice
5 cups water/broth
Juice from half lime
1/2 tsp cumin seeds
2 green chillies
Heat a tbsp of Olive oil in a pan.
Add cumin seeds and Chillies fry for a couple of min
Saute the cilantro
In a blender, add garlic, onions, sauteed cilantro, cumin and chillies.Stir in a tablespoon of water, just necessary to let the blender going.
Make the ingredients into a paste, not too runny though and keep it aside
Cook rice with 5 or more cups water.The rice should not be mushy.The rice should be soft and like the rice that you cook for Pulav or Biryani.Change the ratio of water as necessary.

Once the rice is cooked, let it cool down for about 10 min
Gently mix the Cilantro paste and salt with rice.
Stir in the lime juice.Serve hot.
A T&T -
Nags' Marie Biscuit Chocolate Logs.
DH calls this 'Marie Tiramisu' and I think it resembles Mini Dobos Torte in its color and look !It tastes just as delicious.An easy and a decadent recipe.It takes you hardly a few min to put the ingredients together and refrigerate.I fell in love with it and who wouldn't?
For a better quality pic and recipe, please follow the link above.Y'know, before this, I made a couple of times and never did I get a chance to take the pic.It was over in no time .This time, I was determined to take the pic regardless of how it came out to be,light, no light, it didn't matter.So this is the end result:-)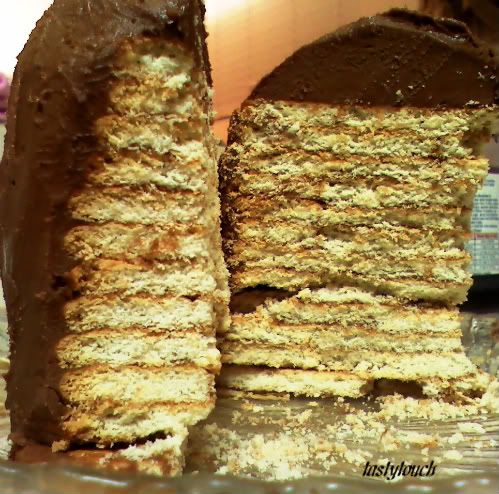 Have fun
Shri